I had a problem. I opened the door to my chicken coop. I caught a glimpse of a tiny dark object scurrying in the shadows…
(Yes, I have 3 chickens in my backyard—explaining this will be left to another post.)
For a second, I thought it must be my imagination. You know, like the protagonist in a movie that is being followed by some creature in the dark and he keeps spinning around to find that there is nothing. That was me.
Finally, I lifted the floor of the coop ever so slightly. There he was, looking me in the face with his twitchy, beady eyes: a mouse. I pulled the floor back. More mice. Apparently some prego-momma-mouse made her way into my chicken coop and then proceeded to have an orgy, because there were close to a hundred mice in a 4' x 6' area.
Technically speaking it's called a mischief.
You can imagine that this debacle was not a pleasant one to solve. Pretty much any avenue I decided to go down involves the slaughter of a bunch of (otherwise cute) creatures. The curveball was, I was teaching 34 web professionals how to sell $10,000+ projects during my $10k Bootcamp spring session. This program consumed my life. I had no time.
I needed an exterminator.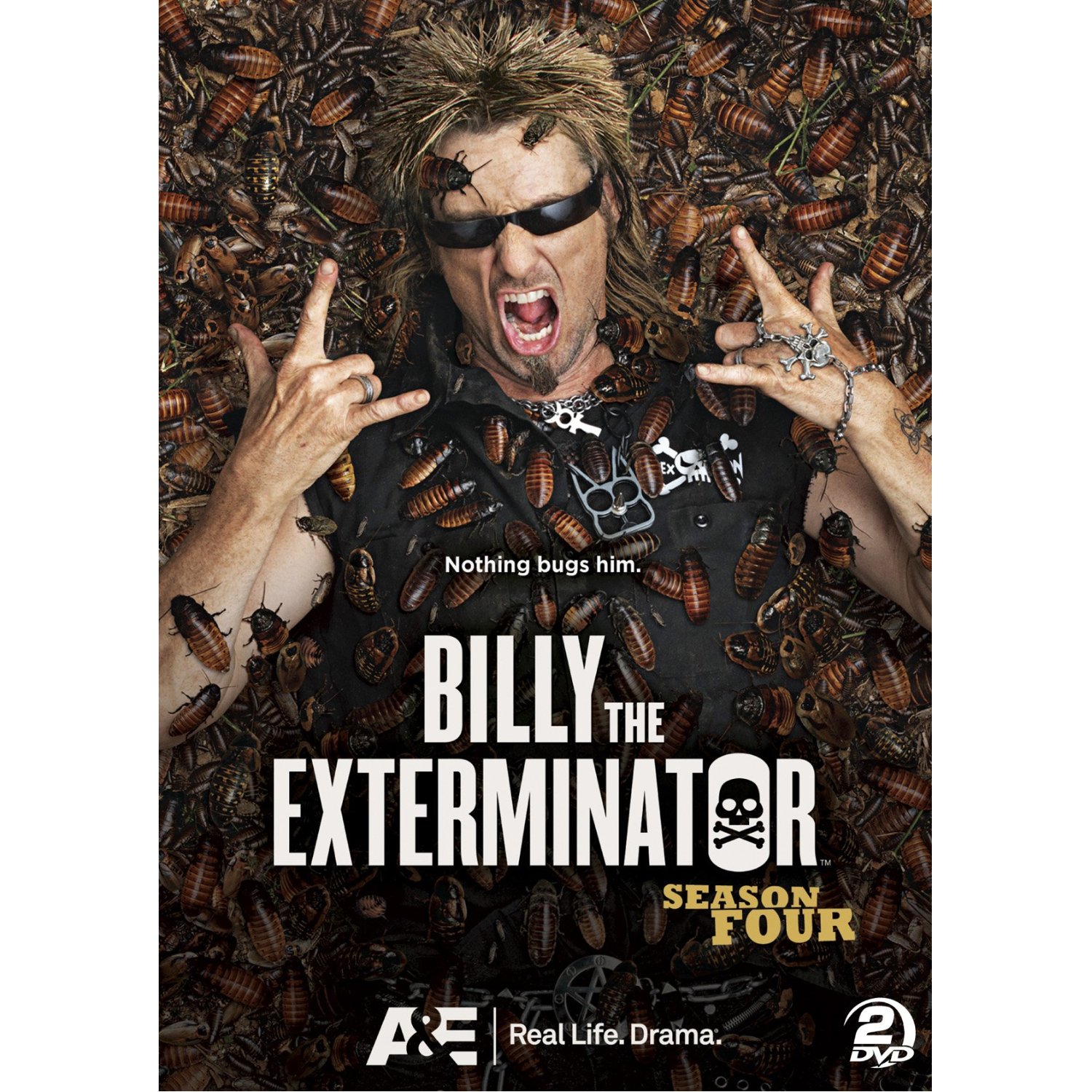 Then I had a lightbulb moment. I was teaching people how to approach their web project opportunities with strategy to deliver real value to their clients (ie. help them get more customers). I decided to document my experience searching for a mischief-destroying-service as a learning experience for my class.
Let's look at the funnel I went through…
Start with Page 1
Like most humans in the developed world, when I need something, I search Google for it. What came to mind was:
"mice exterminator denver"
Which gave me the following results…
What immediately caught my eye was a name I had heard of before, Orkin (both #2 organic and #3 paid). Maybe it was one of their commercials that subliminally programmed me. I'm not sure, but that's where I clicked.
The page that Google takes you to is a targeted content marketing piece titled Mouse Extermination: How to Get Rid of Mice. The layout isn't groundbreaking, but surely effective as Orkin probably doesn't have to spare much expense in their web department.
Even if I had the intention of solving this problem myself, Orkin does a nice job at dissuading me with their main body content on the page. Some of their instructions include sealing up all holes the "size of a pencil" around the exterior and interior of your house (that sounds like searching for a needle in a haystack). They also inform me that snap traps are dangerous for me, my newly born son, and my pets. They imply that glue traps can be successful if "properly placed," but with no insights into how to do that. While actually telling me some rough guidelines on how to get rid of mice, they make sure to ride a balance of what I call the How to Fix A Plumbing Disaster Effect.
[tips box]
How to Fix a Plumbing Disaster Effect
There is a long-time web strategy around content marketing as a consultant, service provider, or product-maker, that goes something like this: I can tell a room full of people or the entire internet exactly how to do something without threat that it will damage my business, but quite the opposite—it will grow my business. I call this the How to Fix a Plumbing Disaster Effect (or HFPDE for short), because a nameless plumber was the first way that I heard about the technique. Say I'm a plumber and I want to get more business fixing broken toilets. I can create a page on the internet called "How to Fix a Broken Toilet" and provide exact instructions for the job I do. A lot of old timer's will say, "why would I tell the world how to do my job?!" Rest assured, the answer is forthcoming. The more detailed the better:
Collect your tools and supplies (wrenches, screwdrivers, and other things that only a plumber would carry)
Make sure to get a handful of towels that you never plan to use again, because you will get human waste all over them
[another 35 steps that don't matter because I refuse to do anything that involves human waste…where the hell is that phone number?]
Even with the best of instructions, most people don't want to do other people's jobs. Whether it's fixing toilets or building websites. I used to give lunch n' learns on how to fix your restaurant's website homepage and it never failed, at least 25% of the audience would come up to me afterwards and say, "can you fix my homepage?" BUT I JUST TOLD YOU HOW! Oh, ok, give me $10,000 and I will make it right. This concept is 100% counter-intuitive. The more specifics you share about your "secret sauce," the more you will get hired. You see on the internet, the more special and unique content is, the more people link to it and the higher Google ranks you…resulting in a lot, lot more traffic which results in a lot more volume for your 25% of people asking you to just do it for me. Hence why the HFPDE concept is a core ideology in content marketing, traffic, and conversion.
[/end tips box]
Since I'm a rather busy person (ahem, HFPDE), I really have no interest in solving this problem myself.
Directly to the left of Orkin's page title (H1) it says, "Having Trouble with Rodents? Give us a Call…". And then they have their phone number and a lead form. The copy is problem and customer oriented which is good and passes my sniff test. Lots of businesses think about their service offering (or rather themselves) first, instead of what is most important: their customer's problem. The competitor chipping at Orkin's heals for the search query I typed (mice exterminator denver), Absolute Pest Control, is a perfect example of this. With lines like "Defining Customer Service" and "We have been in Denver…" blah blah blah: all about me, the business owner and not me, the customer.
(Copy like that is the result of a web designer saying to his client: "you need to provide the copy for your website" with little to no guidance in helping them actually connect with their customers and write great copy. It appears that somewhere along the lines APC hired an SEO company to get them ranked in Google because the remainder of the page looks like it was hijacked by an "SEO expert" that had no wherewithal to who would actually find himself on that page. Disclaimer: I don't mean any disrespect to APC as I'm sure they are a great company that does provide great service. I just wish that whoever they hired to help them with their website did them the service of doing it right.)
Orkin understands their customer's mindset by communicating a very specific and short sentence with this structure: "Having trouble with Rodents? [customer problem in question form], give us a call." Their competitor's CTA is "Serving Our Colorado Customers Since 1986 [a ME statement], give us a call."
The Funnel Doesn't Stop with Web
I called the 800 # and landed in an Orkin call center. I have no idea if this call center was exclusive to Orkin or a virtual center for a variety of businesses. All I knew was that the person on the other end of the call was not local, but they were devoid of an accent and strange trans-atlantic call quality.
She was very friendly and her objective was to intake the lead. She had a script and was very question oriented:
What can Orkin help you with today?
Where are you located? (address and zip)
What is your phone number?
What is your email address?
She informed me that she would be transferring my information to a local expert that would be able to help me with my problem. I should expect a call later today. Since Orkin is a franchise-based organization, this makes total sense. National pays for and manages the "big funnel," and the individual location gets fed the appropriate leads.
In a couple of hours, I got a call from my local Orkin guy. We talked a bit about my situation and he said it was something he could help with. I asked how the process works and he walked me through their business model:
$116 for the visit, but he'd discount it to $66
He would investigate my issue on-site and come up with a trap strategy
I would get a couple of traps as part of the visit, but then would need to pay another $20-30 per additional trap
Then for $59 per month, he would make subsequent trips out until the problem was solved over a several month span
I could cancel the monthly at any time as there were no long-term contracts
After learning that it was a subscription service, I told him I would call back since I needed the problem sorted out in short order.
About two weeks later, I received another follow up call.
Orkin: "I was just calling to see if you still needed an exterminator?"
Me: "No, not at this time, thanks."
Call over.
What Orkin Could Have Done Better
I ended up not hiring Orkin. I was talking to my Dad about the situation and he perked up at the opportunity to help out with some gusto and go to battle against the mice. How this part of the story ends has not fully revealed itself.
But what I can say with certainty is that Orkin could have gotten my business if their funnel was a tad bit better.
Let's look at what their funnel was…
Everything is pretty well sorted up until the "Franchise Call #1." Instead of focusing on qualifying me as a good fit for Orkin, the "expert" just answered my question around pricing. At the surface, that sounds good, but he immediately lost his ability to build a relationship with me. If I were to have designed this funnel, my process for the call would have been two steps: qualify and then book the appointment. I indeed had a mouse problem and based on the Orkin pricing model, there are probably very few people that couldn't afford the service. If I got a "no" – then set day/time to follow up for another call to check in to see if I had sorted out the problem.
Since I was a qualified customer (someone with a mouse mischief in his backyard), Orkin should have a multitude of scripts to get me to commit to at least a free consultation. Something tells me if an expert actually showed up at my house and assured me that he could fix my problem in 90 days, I would be sold.
But alas the expert instead focused his energy on trying to sell me his packages over the phone. He was nice, but I'm not sure he had a solid script for handling this call and a clear objective.
The second is around email. I have yet to receive an email from Orkin – about my specific issue (exterminating mice…in Denver) or with special promotions and offers to push me over the line. Perhaps the virtual call center mistyped. Even so, one step I would have added to each interaction in the funnel was to ask for and verify email address.
I should have already received at least 6 emails specifically about how mice problems can escalate, the diseases they carry, and any other things that would eat away at my subconscious until I re-engaged in their funnel.
Another note about email is that on their landing page for rodent extermination, there was no value-add content opt-in. Something like, "The Total Guide to Get Rid of Mice Yourself" to try to snag those DIY'ers through a long-tail funnel.
Finally, I don't think Orkin should have limited their follow up calls to two attempts. Technically, I still have a mice problem. My Dad and I plan to resolve it ourselves, but if I had a call every two weeks by a friendly "expert," it might only take another couple to push me over the line to becoming a customer. And in Orkin's business model, this could be a subscriber for many months. Their second call should have been something like this:
Orkin: "Hi this is [name] from Orkin, do you still have that mice problem in your chicken coop?"
Brent: "Yeah, I haven't gotten around to fixing it quite yet. I wasn't super excited about your subscription model product."
Orkin: "That's not a problem. How about I do this, let me get an Orkin expert out there this week to take a look and talk to you to see if there is something else we can do with your situation. No fee for the visit."
This approach would be much more appointment oriented versus trying to sell me on the phone or get me to commit to a site visit fee. If he came out and started to show me traps on site and how well they work, there is no question that the Orkin guy could have buckled me into the subscription on-site.
So to summarize what could improve this funnel:
Create stronger script for qualifying prospect and driving towards booking a free consultation (provide a price range for the visit, but veer away from mentioning the subscription product over the phone)
Add an email series from the first interaction with their opt-in form and/or 800 # intake
Add high value content opt-in to landing page after primary lead forms and contact #'s
Increase the amount of follow up calls from 1 after initial to 6 or 7 (people don't buy until you have at least 5 interactions and recommend 7)
Why All This Matters
When I consult with web designers and tell them that they need to do more Discovery in their sales process and focus on strategy more than design, development, or tools, the above is exactly what I'm talking about. Helping a business become #1, #2, or #3 for a rank in Google (or building another effective traffic source via Facebook, Yelp, or your chosen poison) and then architecting a workflow with their website and email list to drive business is the single highest value activity you can provide to that business. This type of work is more about strategy and big picture than an individual skill.
Great design? Mobile friendly? UI/UX? Of course these things matter…as long as they are in service of making the funnel work better. With the best email series in the world, if the rep on the phone never asks for the customer's email, then you aren't getting the maximum ROI you possibly could for your client. If the person on the phone doesn't have a tight script to get you to move to the next level of the funnel, then your awesome copy headline is worthless.
How do you go from selling $3,000 websites to $10,000 or $15,000 or more? You have to start thinking about the same things that someone at Orkin is thinking about. You need to think about:
Who is my potential customer?
What are their pains and problems?
How can I create content that will attract them to my website?
What content can I write to connect with the user in a real and emotional way? (and avoid SEO-centric keyword stuffing or wikipedia-esque pages)
What am I going to do once they are on my website to get them to contact me by phone, email, form, or opt-in to my email list?
What happens after they contact me?
Who is responsible for calling the lead?
What does that person say or do?
Depending on what happens on that call, how are we nurturing this prospect to engage with us down the line?
If they hire us, how does the web or email play into that experience?
A lot of web designers want to only think about two things:
DESIGN + DEVELOPMENT
I know, I've been there. Just the single practice of leaving content up to our clients to fill in the blanks is evidence of this. So many professionals I talk to still do this and they get taken through the ringer because their client is even more clueless about content than they are.
Building $10,000+ websites is about more than those two things, it's about:
STRATEGY + CONTENT + CONVERSION
And if you know what's good for you, you'll learn about one more thing to rope in a $1,000+ monthly retainer:
TRAFFIC
Without the full picture, you might as well advise your client to keep the $3,000 in their pocket and come back when they are willing to invest. If all your client needs is a website so that when they are at networking events they can hand out a card and their prospect needs to validate the business by visiting a website, setup a single landing page for $500 and call it a day.
When a client calls you and says, "I need a website," what they are really saying is, "I need to get more clients and I think the internet can help me." So you should proceed accordingly.
Some Other Things to Consider
If a pest control company called me, I would go through the above exercise with the #1, #2, and #3 results for both Google organic and paid results. I would get paid to do Discovery and part of my process would be to actually go through each of the funnels for each of the companies and document each step for my prospect. These are people already investing in online marketing and have probably blazed a trail well enough to save my prospect some heartache. I would learn from the other companies and create my suggested strategy accordingly.
The #1 result for my search (mice exterminator denver) was actually Yelp. When you click on that URL you get the following:
So while it might cost a TON of money to compete with big national brands to get to the #1 spot via Google organic or paid, there might be an opportunity to grab the #1 spot on the website that holds the #1 spot on Google. Part of my research would be to figure out what the costs of getting that ad position would be, as well as an estimate on what it would take to get more than ten 5-star reviews on Yelp to get the organic post. This would most likely consist of an aggressive social media strategy, but might be more do-able than the #1 organic listing.
I would also look for other opportunities that I might not be aware of. My initial research to find companies was based on my search the way my brain thought of the problem "mice exterminator denver." However, it turns out that this is not a very popular term. With minimal digging, I found some opportunities:
The big kahuna is, "how to get rid of mice." This small exercise would be very important to do with a client. My experience was that most clients come to the table with search terms that they think are important. Just like I didn't naturally think to search for the most common search, my brain had it's own way of searching. That being said, part of selling a client on the value of your services is to educate them on what's important.
If my fictitious pest control client asked me why they don't rank #1 for "mice exterminator denver" my response would be, "Is that even the right keyword that you should rank for? I don't know, let's find out together." And I would proceed to share with them information from tools like the above.
When you take this new keyword phrase, "how to get rid of mice," and punch it into Google, you get a whole new rabbit hole to dig into. Orkin still catches the #2 listing. Most interestingly, they also are advertising at the top of the #1 listing on WikiHow. If you follow that path, it takes you to a specific landing page that is different from their Google PPC landing page.
$10,000+ Projects
Because of the competitive nature in this market, I would never recommend any pest control company to spend in the low thousands to stake a claim with their website. That would be money wasted. I'm sure you can dig into page 2 and 3 of Google to find a dozen companies that paid a web designer a few thousand dollars to build a website and then forget about them. I don't give these companies great prospects in sticking around.
My proposal would include a clear conversion strategy for X types of rodents & pests, content development for all of those pages targeted no more than five high trafficked keywords. I would look at some immediate paid traffic opportunities and drive that traffic to orphaned lead forms (just like Orkin does).
Sure, design would be a part of the project, so would development and I'm sure a CMS platform. But if the client can't get their website on page 1 of Google, their copy sucks so bad no one can connect with it, they aren't willing to drive traffic through paid advertising, or their funnel is broken, then the fact that their website might be on WordPress is a moot point. None of that really matters in the big picture conversation that is important to win the hearts and minds of this prospect.
If the objection to my $10k+ project was "the other company that we got a proposal from says they can get the job done for $5,000" my response would be simple, "Don't waste your money. Based on my discovery process, [walk through information], your competitors are spending that much money every week to outsmart you and drive new customers to their business. If you want this to work, you have to be willing to make this a priority. A $5,000 budget just doesn't give us enough to get you any results." At that point I would then work to quantify the return of doing the project:
How much is each new customer worth to you?
How many customers are you currently getting through your website (or how many are you missing from lack there of)
How often do new customers refer you to other new customers?
If we could drive X new leads to your door, would this project then be worth it?
These are questions that most web professionals feel really uncomfortable asking. One of the questions I got often in the $10k Bootcamp was, "How do I figure out how many leads I can drive to a business through their website?" I don't ignore that this is a difficult question to answer. I was working with one web pro that had a large commercial real estate broker as a client. She did $100 million deals. All she needed was a single customer to come out of a lead from her website every five years to pay for him spending well over $10k per year on web and internet marketing.
Your job in Discovery is to do research and validation with your client so you get to a point that you can paint a picture around what ROI looks like for them. Ideally that ROI far outweighs the cost of your project. In my experience a ten to one ratio is solid.
Let me know if you are interested in diving deeper into the anatomy of a $10,000 website project. I'm happy to help.
Until then, I need to go eradicate a mischief.
GET YOUR FREE AGENCY ACCELERATOR PACKAGE
The Perfect Web Proposal Template
39 Lead Gen Strategies Checklist
Own Your Market Field Guide
Access To Training Recordings
Exclusive Community Access